Lainesmead Primary School
Welcome to the home of the Lainesmead Primary School school games
At Lainesmead, we put PE and sport at the heart of our curriculum. We believe that all children should be physically literate and we strive to offer children an exciting and engaging variety of sporting opportunities.
We have built links with local clubs and use this to inspire our children to become life long participants in sport.
School Games Mark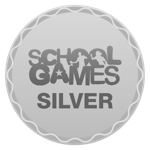 Lainesmead Primary School achieved Silver award last year.
Recent events
Dodgeball Festival
27th November 2018
Dodgeball festival
Lainesmead Primary School Sports day KS2
13th June 2018
Inclusive Sports celebration for children in Years 3 to 6
Primary Gymnastics Competition
29th March 2018
L2 gymnastics comp
Want to find out more?
Visit the Lainesmead Primary School website to learn more about the school