Oaklands Primary School
We care, we learn, we succeed
Oaklands Primary School, Yeovil is committed to providing good sporting opportunities for all children. We ensure that all our children receive high quality PE lessons and understand the importance of an active lifestyle. We continuously strive to provide excellent sport provision throughout the school. All pupils have the opportunity to participate in a range of sporting events from Reception to Year 6 including boccia, gymnastics, football, tag rugby and cross-country. The whole school have enjoyed taking part in the Golden Mile initiative in order to improve their fitness levels as well as reaching their daily activity target.
Children enjoy the challenge of competing in Level 2 inter school competitions and also in Level 1 intra-school sports events on a regular basis. We also achieved the school games silver mark, an achievement we are all very proud of. This year we are looking forward to providing even more opportunities for our pupils to take part in new and exciting sporting events and go for
School Games Mark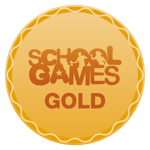 Oaklands Primary School achieved Gold award last year.
Recent events
Year 6 Rounders Match
20th July 2018
The final match between Year 6 classes. Kingfishers vs. Kestrals
Intra School Tri-Golf
9th July 2018
Tri-Golf competition. There will be 6 different golfing tasks to complete, thy will score points for each task.
Peacocks Intra School Sports day
18th June 2018
Peacocks KS1 challenged Peacocks KS2 to a sports day showdown.
Want to find out more?
Visit the Oaklands Primary School website to learn more about the school