Sketchley Hill Primary School Burbage
Sketchley Hill Primary School has a positive and inclusive attitude towards sports for all pupils. We encourage teamwork, increased self belief and confidence through participation in a range of sporting activities.
The Schools Games values are integral to our sporting curriculum. Our pupils are passionate about sport and understand how the pursuit of sporting activities can help to promote a healthy lifestyle: this is taught both during PE lessons and in the Science and PSHEC curriculum. In addition, activity is weaved throughout the school day through the Daily Mile Initiative and Teach Active programme of study.
Our pupils have access to a wide range of after school sports clubs which encourage participation for all abilities . These include cross country, zumba, netball, football, tag rugby, multi-sports and quad kids athletics clubs.
Sporting endeavours both in and out of school are regularly celebrated in assemblies and on our achievement display board. So it may come as no surprise that Sketchley Hill Primary School are renowned for being strong competitors in athletics, cross country, football and swimming competitions.
School Games Mark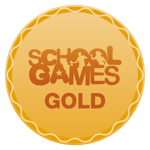 Sketchley Hill Primary School Burbage achieved Gold award in the most recent year School Games Mark was awarded.
Recent events
KS2 Tennis Skills (HINCKLEY)
27th June 2023
KS2 Tennis Skills (HINCKLEY)
Primary Parallel Quadkids Athletics
16th June 2023
Primary parallel athletics for Key Stage 2 pupils in Leicester, Leicestershire and Rutland
Athletics - Area Sports (Primary)
15th June 2023
Athletics - Area Sports Yr 4/5/6 - Mixed/Boys/Girls
Want to find out more?
Visit the Sketchley Hill Primary School Burbage website to learn more about the school