Skipton, Greatwood Community Primary School
Greatwood is a school that believes every children has the potential to succeed, with sport being no exception. Our 230 children are all encouraged to stay active and have a go at everything we have to offer.
Greatwood is a community school in Skipton. A key aspect of our ethos is for children to find a passion in sport, staying active and leading a healthy life-style. We are continually developing our sports offer and use our pupils ideas to develop what we do. We believe that every child should be able to engage in sport. This is achieved through our determination of being inclusive.
We have many achievements and successes, which we are incredibly proud of. These include being North Yorkshire Sport winners for two years in broadening our sporting opportunities and participation in competitive sport. Last year, we were also awarded the national Angela James award from the AfPE for our commitment to promoting how to lead a healthy life-style. These achievements are down to the commitment and enthusiasm from our children, who try everything we offer with a smile and determination to succeed.
Our digital leaders - sports department, will be uploading blogs periodically, to showcase the amazing sport that happens at our school.
School Games Mark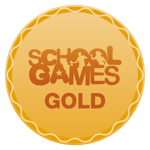 Skipton, Greatwood Community Primary School achieved Gold award last year.
Recent events
School Games Day
18th July 2019
Summer Festival
7th July 2019
Skipton Rounders Yr 5/6
4th July 2019
Want to find out more?
Visit the Skipton, Greatwood Community Primary School website to learn more about the school