St John and St James CofE Primary School
St John and St James' is a church of England primary school in the heart of Hackney. At St John and St James' every child is encouraged and challenged to achieve their best through an engaging, inclusive and exciting curriculum . We want our children to grow in confidence, develop resilience and be reflective learners. Our commitment to no learning left behind has resulted in high attainment and on-going successes.
At St John & St James children strive to achieve in P.E through SELF BELIEF, DETERMINATION, PASSION and TEAMWORK. They are taught to value HONESTY and have RESPECT for each other and those they compete against.
School Games Mark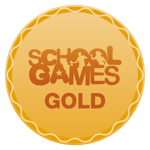 St John and St James CofE Primary School achieved Gold award last year.
Recent events
School Games Day
28th June 2019
A sporting and cultural celebration and activity day.
Spring Finals Day 2
28th March 2019
Primary School Table Tennis festival
23rd January 2019
Primary school Year 4 Table Tennis Festival ORGANISED AND RUN BY THE YOUNG HACKNEY SPORTS UNIT For further information and entry, please contact: Michelle Roberts [email protected] or: 020 8356 6313
Want to find out more?
Visit the St John and St James CofE Primary School website to learn more about the school