St Peter's School
Sport at St Peter's is important to all of our pupils and staff. We encourage everyone to be active; through sports and PE, as well as active lessons and extra-curricular clubs!
Last year we earned the Silver School Games Mark Award and we hope to improve to Gold this year!
School Games Mark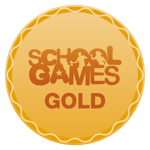 St Peter's School achieved Gold award last year.
Recent events
Year 5/6 Sportshall Qualifiers
27th January 2020
Sports Day
12th July 2019
Sports Day for KS1 & 2- Mixed year group teams to compete across a variety of activities, followed by year group races.
Year 3 / 4Tag Rugby
27th June 2019
Tag Rugby
Want to find out more?
Visit the St Peter's School website to learn more about the school