Viewley Hill Academy
Welcome to the profile of Viewley Hill Academy, where PE and School Sport are key components of our curriculum.
We aim to provide a curriculum that is engaging and challenging and which responds to the needs our children and enriches their experience of the world. We want them to be curious about their learning and enjoy it through being active.
We are a school that ensures children's voices are heard and we encourage them to contribute fully to the life of our school and our extracurricular activities.
Through PE and School Sport, we want the children at Viewley Hill Academy to be able to develop the important qualities of discipline, resilience, communication and teamwork, which in turn will lead to improved concentration, attitude and academic achievement.
As a school, we offer a wide and wonderful range of sporting activities for the children during lessons, after school through our clubs and by taking part in external competitions against other schools.
Some of the activities we offer through lessons and clubs are:
Football
Dance
Gymnastics
Ninja Warrior
Dodgeball
Netball
Basketball
Box2BFit
Hockey
Multi Sports
Rounders
Tennis
Athletics
Swimming
We aim to give our children positive, enjoyable, exciting experiences that will help to develop a lifelong love of exercise. We encourage, support and nourish their talents so that all children try their best and strive to improve.
School Games Mark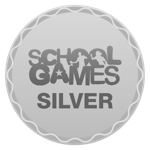 Viewley Hill Academy achieved Silver award last year.
Recent events
Sports Day
6th July 2020
Viewley Hill Academy's Sports Day! EYFS (including Nursery) will compete in the morning. KS1 and KS2 will compete in the afternoon. Parents welcome!
Y3/4 Gymnastics
12th February 2020
Our Year 3/4 children have been focusing on balance, agility and co-ordination this half term. They have worked really hard on being part of a team to develop their skills enough so they could create their own gymnastic sequences. During their last lesson, they performed their sequences and were awarded points for how well they showed of the skills they had developed.
Y5/6 Gymnastics
11th February 2020
This half term, our Year 5 and 6 children have been covering balance, agility and co-ordination. Through developing their skills, they have become very able gymnasts and have created routines. They showcased these during Gymnastics afternoon where they were awarded points for different aspects of their routines.
Want to find out more?
Visit the Viewley Hill Academy website to learn more about the school