William Shrewsbury Primary School
We are an active school that loves PE and sport!
At William Shrewsbury School, the children come first.  Their health and well-being are our paramount concern.  We offer the children a multitude of after school clubs to complement their minimum of two hours curriculum time PE lessons and their structured active break and lunchtimes.  With more than 670 children at the school, it's a challenge to get every child at a sports club, but we've very nearly done this!  We strive to instill in the children a lifelong love of physical activity and sport.  
School Games Mark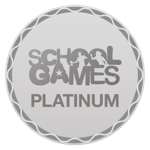 William Shrewsbury Primary School achieved Platinum award last year.
Recent events
Year 3/4 Indoor Canoeing
9th March 2020
Year 3-6 Sport4All
5th March 2020
Year 5/6 Indoor Canoeing
3rd March 2020
Want to find out more?
Visit the William Shrewsbury Primary School website to learn more about the school