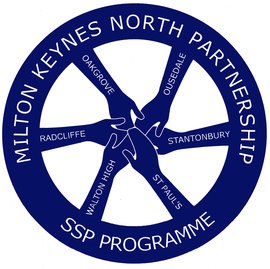 MK North SGO Area
MK North School Sports Partnership
The Milton Keynes Schools Sport Partnership work with and support the school staff and pupils within the primary and secondary schools of Milton Keynes, to achieve self-sustaining improvement in the quality of PE and sport in schools.
As COVID-19 restrictions are relaxed we will be offering a mixture of Face2Face events and Virtual festivals. This will enable all schools to have the opportunity for all young people to participate.
Bucks & MK Cup:
Completing weekly In School challenges, schools will compete against each other for the Bucks & MK School Games Cup. Each week a new challenge will be set, aimed at a different year group, which much be completed that week.
The School Games Cup starts on Monday 17th May and runs for 7 weeks (with a break for half term). Links attached and resources below.
•Week 1 - 17th May - 24th May : Year 3
•Week 2 - 24th May - 31st May: Year 5
•Week 3 - 7th June - 14th June: Year 4
•Week 4 - 14th June - 21st June: Year 3
•Week 5 - 21st June - 28th June: Year 4
•Week 6 - 28th June - 5th July: Year 5
•Week 7 - 5th July - 12th July: Year 6
Face2Face:
For all other events you can register via your own dashboard via the link https://www.yourschoolgames.com
Virtual:
We will continue with our online platform for personal challenges and team virtual entries.
To access: