Athletics
Athletics is a fully inclusive, year-round sport which covers a collection of running, jumping, throwing, and other athletics events.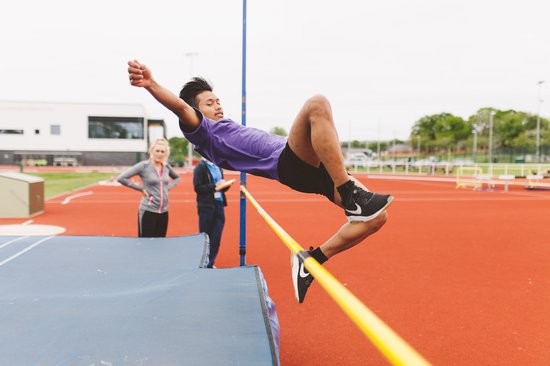 What is athletics?
Athletics is one of largest sports in the School Games and provides year-round competition formats, including Sports Hall Athletics in the winter, to traditional athletics competitions in the summer. From intra- and inter-school to county and national competitions, athletics competitions can be delivered with limited equipment.

Athletics is a highly inclusive sport, where every child can take part and be recognised for both their success and their own personal achievement. The skills of running, jumping, and throwing underpin almost every other sport and athletics can be used to enhance the wider PE and sports offer.
Find out more about how to run athletics formats.
Equipment needed
Suitable indoor or outdoor space
Cones
Howlers
Batons
Gym mats
A variety of balls (e.g. soft, tennis, etc) and beanbags
Stopwatch
Suitable space for long jumps
Bibs
A brief history of athletics
Athletic contests such as running, walking, jumping, and throwing are amongst the oldest of all sports, dating back to Ancient Egypt. The first Olympic Games took place in 776 BC, where the only event was running.

Competitive athletic events as we recognise them today trace back to 17th century Europe, and by 1896, the first modern Olympic Games included athletic disciplines. The sport has also been included in the Paralympics since it began in 1960.

Today, the United States lead the way in Olympic athletic events with a total of 827 medals (343 of which are gold). Great Britain ranks in third place with 210 medals and has brought home 55 golds.

Get involved
The School Games is inclusive to all young people and provides opportunities for everyone to get involved, either within school, against other local schools, or at county or regional level.
School Games Organisers
School Games Organisers (SGO) help schools coordinate appropriate competitive opportunities for all young people from Key Stage 2-4, to recruit, train and deploy a suitable workforce, and to support the development of club.
Sign up to find your local SGO
School Games formats
Learn more about the School Games formats suitable for athletics competitions:
Quick and easy athletics activity resources
We don't currently have any resources related to this sport.
See all resources