Stockton Swimming Finals 2019
Read Frankie and Lucas' report from the Stockton swimming finals.
Y5/6 SWIMMING GALA SSP
On Thursday 14th March 2019 we took a team of 24 to the Stockton finals of the swimming gala competition. Mrs Jones and Miss Hoffman met at the Billingham Forum with Mr Hart coming later in the evening. It was very warm and also very loud despite the gala being on from 6-9 at night. There was some amazing swimming from Crooksbarn with us winning: 5 silvers, 7 bronzes but unluckily we came home with no golds. It was an extremely high standard and a tough competition. As a result of this, we unfortunately did not qualify for the next round held at the Dolphin Centre in Darlington.
Crooksbarn Primary School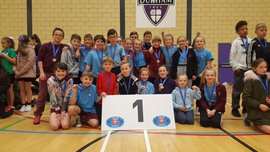 PE and School Sport form a huge part of enriching our curriculum at Crooksbarn. We are huge believers that active children are healthy, happy children. We strive to give our children positive physical experiences from the moment they enter our school in Nursery until they moment they leave in Year 6.
Want to find out more?
Visit the Crooksbarn Primary School website to learn more about the school