Broughton-in-Amounderness Church of England Primary School
Here at Broughton, Physical Education, Physical Activity and Competitive sport are integral parts of a child's education. We strive to support excellence in PE through promoting healthy and active lifestyles, engaging in competitive activities and developing a love for physical education. We deliver high quality teaching, with specialist teachers and external bodies to ensure that all aspects of the PE curriculum are being delivered to the highest quality. We offer a balanced program, one that focuses on the development of the fundamental movement skills that children need in life. Children are able to access a variety of sports within school, thus providing them with an opportunity to express themselves and develop their own unique skills in their chosen sport. Individuality is something that we celebrate here at Broughton, as every child is different, and children are offered the chance to display their talents through sport. Children can also build self-esteem, develop team work and friendships and have a positive attitude towards PE, also providing the opportunity to lead a healthy lifestyle. Healthy children will develop into healthy adults, so we certainly are shaping the future and it is paramount that children see an active healthy lifestyle of importance in their adolescence and beyond. PE and School Sport is also the perfect vehicle for the children to develop the element of responsibility. We give the children autonomy to look after their PE kit, as well as being responsible for their own kit when representing the school in any sporting events. Independence is an integral part of a child's development, and PE and School Sport offers a tool for the children to grow and mature into independent learners. A positive experience of sport outside of school is also something that we hold in high regard at Broughton. Children have access to a range of competitions and are able to compete against each other as well as other schools. This inevitably gives children the opportunity to make new friends, meet new people and create new links across the county and beyond. It gives external companies a chance to promote their teams/groups to our children, giving them a platform to continue sport outside of school. In terms of elite sport, attending sporting competitions also provides an opportunity for children to excel in sport and go on to represent elite teams, their town team and even the county. However, at Broughton, elite and competitive sport is not the forefront of our sporting ethos – it is simply to promote love and participation in sport. Because of this, we will strive to take as many teams as possible to each competition, striving to provide each child with an opportunity to partake in competitive sport. Our inclusion and participation in School Sport and competitive events has been recognised by the School Games, and we now hold the 'School Games Gold Award for School Sport' – a positive notion and one we plan on excelling further with our bid to achieve platinum status. In order to continue to participate in a wide range of sports, we continue to use the Sports Premium Expenditure to offer the children high quality resources. The money given from the government is distributed based on the needs of the school and, along with an audit of PE equipment and resources across school, we analyse the resources we need to make our school sport and PE lessons even more inclusive and attractive to each individual. Not only do the staff encourage the children to develop a love for sport, but the children have also recognised the importance of physical activity within their lives and relay this ethos to their peers on a daily basis. Children have recognised the passion shown by the staff and have continued this by offering their own clubs to the younger children, providing even further opportunities for the younger children to develop their fundamental movement skills, whilst also providing older children with another example of responsibility and individuality.
School Games Mark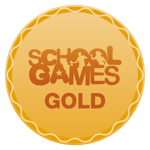 Broughton-in-Amounderness Church of England Primary School achieved Gold award in the most recent year School Games Mark was awarded.
October Blog!
This week at Broughton, Year 4 attended an athletics mini skills competition and Year 6 attended a hockey skills competition. The results have not come in but we are proud of both teams!
Recent events
Dance Festival
8th March 2023
Dance Festival Stand Alone event
Traditional Sports Day
27th February 2023
Traditional Sports Day event
Striking & Fielding
27th February 2023
Striking & Fielding festival to promote skills.
Want to find out more?
Visit the Broughton-in-Amounderness Church of England Primary School website to learn more about the school