Welcome to Hale Prep's School Games Sports Blog.
The school's aim is, quite simply, to have happy, secure children achieving their academic potential and, at the same time, enjoying a wide curriculum and an extensive variety of extra-curricular activities. 
Enjoy reading our blogs below.
School Games Mark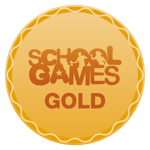 Hale Preparatory School achieved Gold award in the most recent year School Games Mark was awarded.
Year 5 Netball Club
Year 5 love the Netball Club. The netball players are Deia, India, Saliha, Noor, Ava, Evie, Anantashree, Olivia and Isy.
Recent events
Altrincham Small School Football Girls
8th October 2021
Altrincham Small School Football Boys
8th October 2021
Personal challenge - Advent calendar
21st October 2020
Series of daily personal challenges to cover a variety of multi skill activities.
Want to find out more?
Visit the Hale Preparatory School website to learn more about the school