We are a very happy, sporty school who love challenge and teamwork.
We are a very friendly, ever growing village school in Weston super Mare. We have some fantastic school grounds and a multi use games area which enables us to take part in sports all year round. We are passionate about sport and have achieved our Sainsbury's Gold Award for the past three years. Our aim is to achieve gold again this year which will enable us to go onto the next award: Platinum.
School Games Mark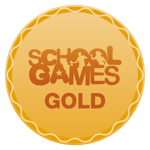 Locking Primary School achieved Gold award last year.
Recent events
Year 4 Multisport Festival and Year 5/6 '60 Active Minute Training' (am)
30th September 2019
An opportunity for teams of year 4 pupils to access two workshops; Pentactive/Fencing and Cricket. Pupils will spend an hour being coached in each sports-zone, led by top coaches. Year 5/6 leaders will also have the opportunity to receive training from Olympic Pentathlete Samantha Murray in PEntActive and also work with Somerset Cricket Board in delivering a cricket festival. Full details and booking via the NSSPEA website.
Year 5/6 High Five Netball Festival
25th September 2019
An opportunity for pupils to come and play High 5 and practice their skills. School teams will have the opportunity to play friendly matches, but no formal winners will be announced at the end of the festival. The priority will be on the enjoyment and development of the participants. Full details and registration via the NSSPEA website. A Level 2 High 5 Netball tournament is scheduled for March.
Level 2 Primary Yr 5/6 Quicksticks Hockey 'Open'
25th September 2019
Annual level 2 Quicksticks Hockey competition with a pathway to the level 3 Spring School Games. Full details and booking via the NSSPEA website. A Quicksticks Festival will be hosted in the Spring term.
Want to find out more?
Visit the Locking Primary School website to learn more about the school