We are a very happy, sporty school who love challenge and teamwork.
We are a very friendly, ever growing village school in Weston super Mare. We have some fantastic school grounds and a multi use games area which enables us to take part in sports all year round. We are passionate about sport and have achieved our Sainsbury's Gold Award for the past four years. Our aim is to achieve gold again this year which will enable us to go onto the next award: Platinum. However, in light of Covid restrictions, we are having to adapt to ensure we can keep all of our pupils active during this time. Our sports champion continues to offer weekly personal best challenges, weekly PE sessions and live challenges every Tuesday and Thursday morning. We are continuing to offer virtual events and challenges set by NSSPEA. Our sports crew continue with their role in school for key worker children organising and managing games at playtime and during lunch. Our aim is to offer more physical activity to support children's mental health and well-being during the continued lockdown and on return to normal school life.
School Games Mark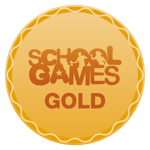 Locking Primary School achieved Gold award in the most recent year School Games Mark was awarded.
Recent events
Large Primary Schools Sportshall Athletics
24th November 2021
Annual Primary Sportshall Athletics competition for Large Primary Schools (130 pupils or more at KS2). Children will compete is a series of track and field events scoring points for their team as they try to achieve their personal best.
NSSPEA 'School Games' Virtual Pentathlon: Year 3-11 pathways
18th April 2021
An opportunity for all schools with pupils across years 1-11 to participate in the Virtual Pentathlon (Sportshall Athletics). The main focus will be on participation, with all children encouraged to try and improve their personal best. There will be an opportunity for schools that wish to compete against other schools to do so. Schools may choose to participate in the full Pentathlon, or may choose just to try a few of the events.
Year 5/6 Quicksticks Hockey Festival
11th March 2020
An opportunity for players new to hockey to participate in a primary Quicksticks festival. Teams will play a series of friendly fixtures, but no formal results will be collated. The focus of the event is on enjoyment and development. Full details and registration via the NSSPEA website.
Want to find out more?
Visit the Locking Primary School website to learn more about the school