We are a very happy, sporty school who love challenge and teamwork.
We are a very friendly, ever growing village school in Weston super Mare. We have some fantastic school grounds and a multi use games area which enables us to take part in sports all year round. We are passionate about sport and have achieved our Sainsbury's Gold Award for the past three years. Our aim is to achieve gold again this year which will enable us to go onto the next award: Platinum.
School Games Mark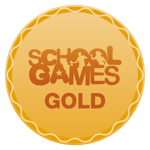 Locking Primary School achieved Gold award last year.
Recent events
Level 2 Primary Boccia Festival/Competition
4th December 2018
Annual Boccia Festival/Competition for North Somerset Schools
Level 2 Primary Inclusive Kurling Festival
3rd December 2018
Annual Kurling Festval for North Somerset Schools
Primary Dodgeball (South)
3rd December 2018
Full details will be shared with colleagues under separate cover.
Want to find out more?
Visit the Locking Primary School website to learn more about the school