Macmillan Academy
Macmillan Academy - Teesside
At Macmillan Academy we pride ourselves on providing a whole education. While we seek to create a learning culture that allows students to achieve above and beyond their potential, we try to ensure inclusiveness for all students through access to a wide range of extra-curricular opportunities. Our extensive programme of enrichments, particularly in Physical Education, provide all of our students with the chance to participate and stay active outside of their core PE lessons.
The Physical Education Department at Macmillan Academy also offers a vast number of sporting fixtures each week with up to 100 students regularly representing the Academy. The quantity of fixtures played enhances the development of our students both on and off the sports field and allows them to build relationships with staff and students from opposing schools. The depth of the active break times, lunch-time clubs and after school enrichment programme has allowed students to choose activities that they enjoy participating in and, in some cases, develop into high level performers. We are very proud of our educational and competitive successes. As recognition of the hard work that the department puts in, Macmillan Academy was awarded with the Sainsbury's School Games Gold mark for 2017-18. This now means that the Academy has obtained its Gold standards three years running.
Our School Games blog below is regularly updated for parents to see what sporting events are taking place in the Academy. You can also follow our twitter page @macmillansport, to track the Academy's success stories in fixtures and tournaments.
School Games Mark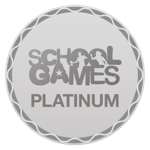 Macmillan Academy achieved Platinum award in the most recent year School Games Mark was awarded.
Recent events
Middlesbrough Secondary School Cross Country
28th November 2022
Middlesbrough Y7/8 Sports Hall Athletics
17th November 2022
Middlesbrough U13 Kin-ball Festival
10th November 2022
Want to find out more?
Visit the Macmillan Academy website to learn more about the school