Sparken Hill Academy
At Sparken Hill, we are committed to helping every one of our pupils to achieve their best. We recognise the sporting strengths of each individual and work hard to develop these appropriately. We aim to ensure success for all and to create a healthy self-image. We feel that Physical Education plays an important role in helping us to fulfill this.
PE and School Sport at Sparken Hill Academy
SHAWorksop    #teamworkmakesthedreamwork
• The PE coordinator and Lead Sport Coach is committed to ensuring all pupils receive high quality PE lessons delivered by confident and well trained teachers.
• The skills taught are wide and varied, enabling children to apply these confidently to a variety of sports.
• Extra-curricular opportunities are extensive and currently include tag rugby, tri-golf, football, gymnastics, pop lacrosse, couch to 5K,  and dance. New sports are introduced throughout the year.
• In year 5/6, children learn to become sports crew and use their skills to teach
younger children (supporting lessons in foundation stage). 
• A sports captains and sports ambassadors organise sporting
competitions and running sporting Inter-House activities.
• Our school is part of the Bassetlaw Schools Sports Association. Meetings are held yearly to share good practice. Through this we have enabled the opportunity for children to compete in a range of school games competitions and  tournaments, including the school games events.
• Achievements in sport are recognised in weekly newsletters and assemblies. 
The Sport Premium
Through the 'Sport Premium' the Government is providing funding to support the delivery of PE and sport in primary schools.
This funding will be ring fenced and is allocated directly to primary schools across England, providing them with dedicated resource to buy in invaluable expertise and support. Sparken Hill have developed an action plan to help use this money to develop PE and School Sport for our Pupils.
School Games Mark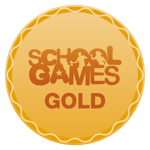 Sparken Hill Academy achieved Gold award in the most recent year School Games Mark was awarded.
Recent events
Year 1&2 sports day
21st July 2021
All of year 1&2 Will carousel around 10 activities based on agility, balance and coordination.
Foundation sports day
20th July 2021
Carousel of 8 different activities. Each run by sports crew.
Year 3&4 sports day
19th July 2021
Field and track events, competing in classes rather than houses.
Want to find out more?
Visit the Sparken Hill Academy website to learn more about the school