St Edward's Catholic Primary School
St Edward's Primary School in Middlesbrough, a Catholic Voluntary Academy, is a happy and hard-working school with an "outstanding" performance and ethos of care. We strive to live by our mission statement in everything we do - 'Live, Love and Serve.'
At St. Edward's we are very passionate about PE and sport and enjoy taking part in competitions, both in and outside of school, as well as attending our wide range of extended schools clubs. We have a newly appointed Sports Crew who meet regularly to discuss and drive sporting initiatives in school.
Meet our Sports Crew!
Having been awarded the Platinum School Games Mark in 2018, we will be looking to achieve it again this year!
School Games Mark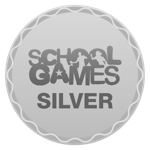 St Edward's Catholic Primary School achieved Silver award in the most recent year School Games Mark was awarded.
Aldi's Kits!
We would like to say a huge thankyou to anyone who brought in Aldi 'Kits for Schools' stickers!
Recent events
Primary Tri-Golf Festival
9th March 2022
Y5/6 Table Tennis
1st December 2020
Schools to focus on table tennis skills. Serving and rallies. Competition element - how long is the rally in 60 seconds.
Key Steps Gymnasics skills
9th November 2020
Children to work on key steps gymnastics skills. Focus on floor elements and vaulting skills.
Want to find out more?
Visit the St Edward's Catholic Primary School website to learn more about the school