St John Fisher Catholic Primary School
St John Fisher Catholic Primary School, Perivale
Through our love of God, we respect and value every person.
School Games Mark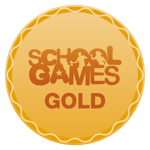 St John Fisher Catholic Primary School achieved Gold award in the most recent year School Games Mark was awarded.
Recent events
Year 6 Sportshall Athletics
19th November 2020
LYG Virtual Sportshall Athletics Competition
Cross-country participation
5th October 2020
Participation event for specific year groups to complete the appropriate distance. Pupil participation is collated and totalled before sending to the London Youth Games to decide which borough are crowned School Games Cross-country champions!
Rugby virtual competition
14th September 2020
Want to find out more?
Visit the St John Fisher Catholic Primary School website to learn more about the school