St Saviour's Catholic Primary and Nursery School
Welcome to St Saviour's school dashboard.
 At St Saviour's physical education is about providing a high quality curriculum which inspires all pupils to succeed whether that is competitively or in other physically-demanding activities.         
We aim to provide opportunities for all pupils to become physically confident in a way which supports their health and fitness.   
We also aim to provide children with opportunities to compete in team sports and other activities helping to build character and embed values such as fairness and respect. 
School Games Mark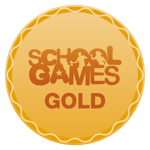 St Saviour's Catholic Primary and Nursery School achieved Gold award in the most recent year School Games Mark was awarded.
Tag Rugby!
On Thursday 18th October, a group of year 5/6 children attended a Tag Rugby competition at the UCE Academy.
Orienteering Fun!
On Tuesday 1st May, a group of Year 5 and 6 children went to an orienteering completion at Helsby High School.
Recent events
Year 2 netball match
27th May 2022
Small Sided Football
5th May 2022
Quad Kids Athletics Y56
28th April 2022
Want to find out more?
Visit the St Saviour's Catholic Primary and Nursery School website to learn more about the school