West Cornforth Primary School
Welcome to our west Cornforth Your School Games Page
Welcome
I warmly welcome you and your family to West Cornforth Primary School and hope your time with us will be happy, rewarding and successful. All members of the school community work extremely hard to ensure children, from the ages two to eleven, grow into tolerant, respectful young people who have the desire to achieve and succeed in life.
School Games Mark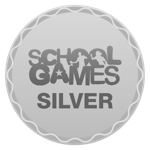 West Cornforth Primary School achieved Silver award in the most recent year School Games Mark was awarded.
Recent events
KS1 Outdoor Forest Club
7th June 2022
I run an outdoor Forest based club for the children to work on character and life skills. The skills that they develop are resilience, team work and physical development.
Primary Sportshall Athletics Festival
12th November 2021
Carousel of indoor athletics
Primary Sportshall Athletics
9th November 2021
Indoor competition for Y5-6
Want to find out more?
Visit the West Cornforth Primary School website to learn more about the school