Welcome to Windhill21. This is a school where every child is valued; a school which ignites the spark of curiosity, creativity and individuality. It is through our inspirational teaching and a culture of possibility that the children at Windhill21 achieve their potential. We believe that a 'growth mindset' attitude is essential; a belief that hard work and effort leads to success, not just natural talent or ability.
"Leaders ensure that the primary physical education (PE) and sport funding is well used. For example, teachers have regular opportunities to develop their skills in teaching PE, including working alongside specialist teachers. In addition, pupils participate in a wide range of sports and competitions, including hockey, football, tag rugby, archery, netball, gymnastics and athletics. As a result, pupils' physical skills are well developed, and they have a good understanding of the importance of sport and exercise as part of a healthy lifestyle." OFSTED, October 2018
School Games Mark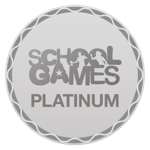 Windhill21 achieved Platinum award in the most recent year School Games Mark was awarded.
Welcome to our PE Apprentice Mr Woodall
Hello Windhill21! Welcome to another academic year! I hope you are all well and have enjoyed your summer break after the most unusual academic year in history! This year we are very lucky to welcome another staff member to the PE team! Mr Woodall will be teaching PE with Miss Freeman. I have spent a bit of time interviewing Mr Woodall to find out some very important information about him continue reading below.
Recent events
Dynamos Cricket - Best Team
25th May 2023
Summer League - Rounders
8th May 2023
Quicksticks Hockey
23rd March 2023
Want to find out more?
Visit the Windhill21 website to learn more about the school