Dojo Signposting and Excellent Eldoners
Whether they are in school learning or learning from home Eldoners know movement in medicine and exercise is an elixir!
Since the sudden change, to remote learning, at the start of this Spring term Eldon P.E. has been busy finding ways to help the children maintain their healthy active lifestyles whilst in the current lock down.
Miss Frew has been trawling through stories on ClassDojo, moseying on through her messages and peeping on portfolios spotting the class and the child who has been the most active weekly.
The whole school waits with excitement as Miss Frew announces the week's P.E. Super Star and the most active class.
Mrs Perry has been adding activities to the ClassDojo inspiring movement and active learning, along with skill development.
Opportunities shared include:
Brain break dances - Adjectives and Nouns by Dan Crow is a fun example, as is Jack Hartmann's Penguin Dance
Sending, aiming and throwing games - differentiated for all but principally aimed for Reception and Nursery to push, pass, throw, roll objects onto the correct 2d shapes
Colours - a listening, moving / agility and readiness game (ably demonstrated by Mrs Perry's daughter)
You tube links to the #ThisisPE activities
YST Healthy Movers - live Tuesday and Thursday sessions
Kent SSP P.E. at home - resource cards
Coding and Agility - a brain and body challenge (ably demonstrated by Mrs Perry's daughter)
Spotting Signs of Spring - scouting for snowdrops while walking or running with the household
The Yogi Group's yoga and mindufulness activity for Primary Aged children
Tchaicovsky Ball Bounce - This was piloted in the class bubbles - ball bouncing in time with music - and will be a future share on Class Dojo - Year 4's Mrs Richmond was inspired to use 'Eye of the Tiger'. The children were great at bouncing in time!
The children, families and staff are also being encouraged to record their activities for Eldon's 'Feel Good February' too - with a calendar supplied to record on. Mrs Perry has just completed 137 miles on her Run Every Day RED Jan and is keeping the streak going but with a more diverse range of activities! Miss Frew has also committed to the cause as has Miss Lightfoot!
Finally P.E. takes to the spotlight this Thursday during National Story Telling Week - with a 'P.E. through stories day.' The children either at home or in school, will be listening to a variety of stories with a connection to P.E and well being too.
As it is of course Children's Mental Health week too.
Children will be enjoying Football Fever by Alan Durant, Augustus and his Smile by Catherine Rayner, and an introduction to Armistice Runner by Tom Palmer.
Additionally the children will be reading and acting out scenes from : Harry the Hero by Mrs Perry - a story about a boy who through keeping active with Class Dojo challenges learns the value of being active.
I will sign off the blog as has now become customary for Class Dojo posts:
Be Well
Stay Safe
Choose to move
Eldon Primary School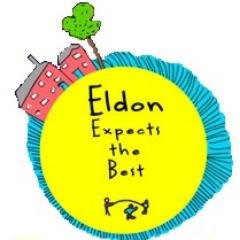 Eldon expects the best...Let's be the best that we can be!
Want to find out more?
Visit the Eldon Primary School website to learn more about the school