Godshill Primary School
As part of the Stenbury Federation, we at Godshill share in the vision for PE and Sport 'to develop children into physically literate, active and healthy young people'. We have three main aims: 1. To provide a positive experience in a safe , enjoyable and encouraging environment. 2. To develop the fundamental movement skills and knowledge for a lifetime love of being fit and healthy. 3. To ensure the children are able to be confident, balanced and coordinated young people whether sporty or not.
Within all activities it is a particular focus to teach the skill and not the sport. We want our children to be able to transfer the skills across all aspects of PE.  For example finding space is a concept  we focus on because it is essential to most sports and will allow our children to be more effective in those games than if they were to focus on the individual skills within the sport.  Alongside this we support the children who show a particular interest or ability in a particular sport through a wide ranging extra-curricular programme and links with external sports clubs. 
At the centre of everything we do in PE in the idea of having a Growth Mindset and the idea of not giving up even when things seem impossible to manage. 
School Games Mark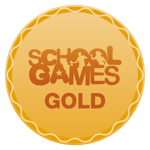 Godshill Primary School achieved Gold award last year.
Recent events
Basketball Finals
11th March 2019
Island Level 2 finals @ CEC
basketball finals
11th March 2019
Basketball
15th February 2019
Ventnor Basketball
Want to find out more?
Visit the Godshill Primary School website to learn more about the school