NFL Flag Football Tournament
Friday 20th May 2022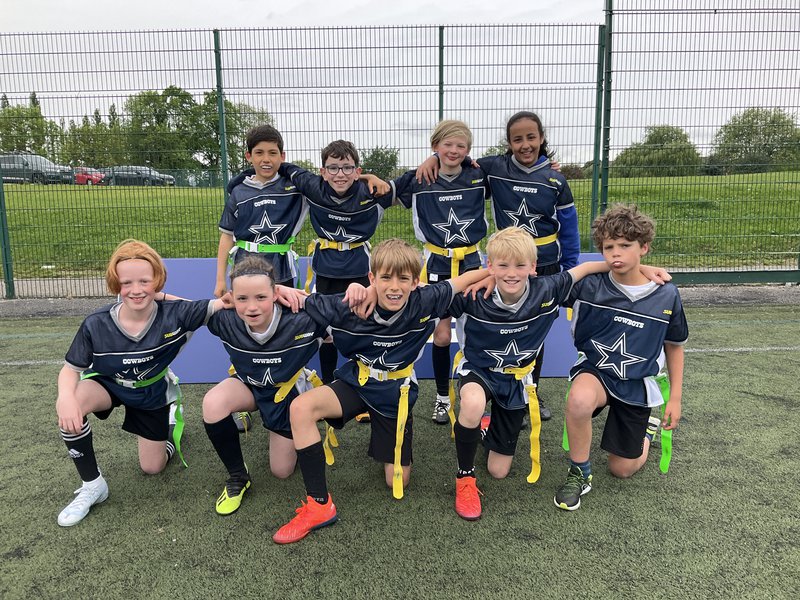 On Friday 20th May 2022, our Year 5 Flag Football team went to Concord Sports Centre (sharing a minibus with Nethergreen Junior School) to play Flag Football.
Flag Football is a non-contact version of American football, where tackles are made by pulling off flags which all players wear on their hips. You score 6 points for a touchdown with either a 1 or 2 point bonus to take afterwards.
Once we got there we received our replica shirts for the tournament (Dallas Cowboys) and we had the opportunity to have some photos with some of the Sheffield Giants kit on (Shirts and Helmets). After this we went to practice some of the "plays" we had made up during our training sessions at school with Mr. Adebola. Before the first match we had a briefing where some extra rules and the tournament format was explained.
We found out that we would be playing 3 competitive games against other schools. we won our first and third game 6-0 & 36-14 respectively but lost the second game 8-6. Unfortunately due to losing the second game we missed out on the semi finals by one loss (2 points-one bonus play!!)
As we were out of the semi finals we had the chance to paly some friendly games against two other school we hadn't met during the group stages. We had Billy (one of the refs) who plays for the Sheffield Giants who spurred us on all the way (as the Cowboys were his favourite team-Which Albert didn't believe until he showed us his replica Jersey underneath his Refs shirt). We won both of these to round off the day before the trophy and medals ceremony.
A brilliant day with the team playing 5 games (3 competitive and 2 friendlies) and only losing one. We also were the highest scoring team (in a single game) with a score of 36-14. Our MVP's (Most Valuable Players) for the day were Evan S (J8) & Thomas S (J9).
And finally a here's a running/Handoff play ("The Tangle") in action
Hunter's Bar Junior School
We provide the children of Hunter's Bar with a rich and diverse PE curriculum to best meet the requirements of the national curriculum. Hunters Bar Junior School-Igniting Lifelong Learning
Want to find out more?
Visit the Hunter's Bar Junior School website to learn more about the school